Cathedral Tower
Medieval Brick Wall
Cathedral Interior
Garden
Vault adjacent to garden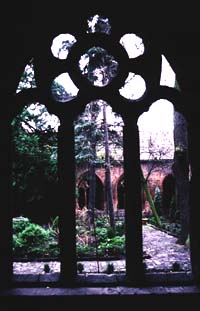 Looking into the garden
4 December 1997
We visited the small town Kamien Pomorski to see a 12th century cathedral. After returning to New York, we learned this was the same building of Witold Karwowski's marriage ceremony. The grounds consisted of the cathedral itself and several attached or adjacent buildings and spaces. In front of and to the right of the cathedral entrance is a green space with the bishop's house situated across the street to the far right. Other nearby sites contained small one and two family homes or 3-4 story modern apartment buildings, each for 15-20 families. I also saw a medieval brick wall in a green space across the street, opposite the cathedral entrance. I do not know if it was part of a fortification or simply a retaining wall. Also attached to the left side of the cathedral is a square garden space enclosed by cloister-like walls. The garden plan is a traditional four quadrant design with a small fountain at the center pathway crossing.
The garden has two features which caught my attention. One side of the garden is a groin-vaulted passageway supporting rooms for the church's artifacts above. Within these rooms is a replica of a reliquary box, though I do not think any part of a saint was inside. Also seen in the garden were two baptismal stones, one on each side of the doorway from the cathedral. The stones are not large, maybe 15" rough inches in diameter. Each has a bowl carved out of its top for a person's head and a small channel to funnel water out of the bowl and towards the garden.
How many people had been baptized there?
I do not know.
Baptismal Stones